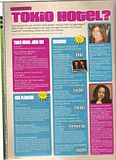 Translation by eelina:
First Scan:
* It says where Tokio Hotel are at the moment, home in Germany and recording in Los Angeles (they aren't there yet xD), what Tokio Hotel are doing - Recording new songs for their new album, their American label said that the last songs were done in the middle of March and after their CD-releasing, they will do a world tour.
* Some true and false rumours: Working with Desmond Child, Andreas Carlsson, The Matrix and Diane Warren. It says that's true (we all know that too) and no artists have been mentioned yet. It says that Tom cuted his dreads, is false (lol, it's true ffs.), that the new singel will be called "Herzen im Sturm", is false and that Bill will play violin on the new album - false.
* Mirjam and Susanne speculate about the new album, they give their thoughts about it, etc.
Second Scan:
* 190 000 000 visitors on TH's MySpace
* The fanaction is mentioned and TH's official Sweidsh site and a Swedish forum.