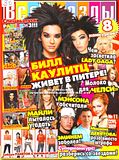 Bill Kaulitz - Mike prefers to shut up about what he'll say to Bill in their first meet
This difficult haircut and make-up of Bill, Did Mike without any help of someone else.
---
You always dreamed that Bill is your neighbor, Hang out with you in parties or learn with you at the University? No Problem! Meet the look alike of Bill Kaulitz - Mike Muller from St. Peterborg!
His publicity is already out from Russia. The first interview of him already translated in Spain, Czech Republic, Brazil, USA and more. Now Mike talk with us - Special for All Stars Magazine!
You have fans from different countries, fanclubs opened for you. For example: Brazil, America.Do you feel special?
Mike: (blush) No and I'm not mean to. I feel like a normal person, Although now I get something like 100 letters for a day.
Is it true that your fans from other countries are learning Russian and want to come to Russia just for you?
Mike: (laugh) Yeah girls are trying to write me letters in Russian and send me videos.
How and When you saw how much you're similar to Bill?
Mike: 'Till now I can't understand it so much. When I was at school, came to me a girl from higher class and said to me that I'm very similar to Bill. Everything started from then. After Tokio Hotel's concert here, before 2 years, people started to get pictures with me and ask for autographs.
Page 2:
In Russia everything it's good, even the look alikes.
From where is the nickname Mike Muller?
Mike: From myself. Actually mike it's from Mickey mouse and the last name it's just a name that I like.
How your parents get your style?
Mike: They're not like it so much.
And at the University?
Mike: They're laugh at me, and judge me.
Well, Bill passed it too. Is it takes many time 'till your ready?
Mike: The haircut and the make-up I learned alone in something like two hours + half an hour 'till I choose my clothes and jewerly. It's long time.
So, if Bill saying that it takes to him something like 40 minutes, So he's lying?
Mike: It's not make any sense! Espacially for him, he's a celebrity, he must to be more serious in this case!
Don't forget that Bill has a cosmetician.
Mike: I want one too (blush).
Fans are coming to you at the street?
Mike: All the time, they want photos and autographs. And not just fans, also regular people.
In different countries there are more look alikes of Bill and Tom but you're the most popular, You know why is it like that?
Mike: In Russia everything it's good, even the look alikes (laugh).
How much time you love Tokio Hotel?
Mike: Year.
You favourite song?
Mike: Ich Bin Da.
You love more bands?
Mike: HIM, Orrigami (?), Cinema Bizarre.
What do you think about the new style of Bill and which one you like the most?
Mike: I like the old one but the new one is cool too. Everything is suit to him and I don't have something against that he's changing his style.
Bill have piercings and tattoos. Do you have one?
Mike: I have tongue piercing.
If you'll meet Bill, what would you say to him?
Mike: (laugh) First, I'll ask for one of his bracelet, just for a memory. And what I'll say to him - it's a secret! When I'll meet Bill, you'll know.
---