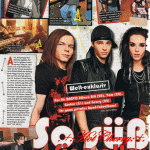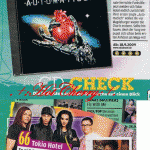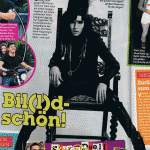 World Exclusive: It all started so sweet!
Just for BRAVO Bill [20]. Tom [20]. Gustav [21] and Georg [22] opened their private Band Photo Album!
How cute! Four little boys are playing with Instruments that are way too big for them: What looks in 2002 like a music lesson at school is in reality the beginning of a great career! Woah: Bill and Tom are just 13, Gustav 14 and Georg 15 years old, when they take their first Steps towards "world fame"! Back then the young Rockers called themselves 'Devilish', but shortly after that they changed their name to 'Schrei'.
Funny: Already at the age of 13 the Twins had their characteristic Look, with which they got famous in 2005. Bill with his fuzzy Manga hair and Tom with his Dreadlocks. Seven years later the four Boys from Magdeburg are Germanys biggest Rockband, which has its big comeback this week – with their Single 'Automatisch' [Release: 18. September]!
Picture perfect!
A real Styling-King! Proudly, Bill Kaulitz [20] from Tokio Hotel poses with a huge feather hat on his head, on a throne. The legendary Designer Karl Lagerfeld [76] himself photographed the singer. The Tokio Hotel Chief in Black and White – how cool!
CD-Check: TOKIO HOTEL – Automatisch
Rock/Pop 18 long months we heard nothing of them – now Tokio Hotel are back! With their first Single "Automatisch" the 4 Boys from Magdeburg want to conquer the Charts again. It should work out, because the Song turns out as a mega Hit – already after the first time of hearing it!
Release: 18.9.2009
[4 of 4 Stars = Brilliant!]
credit LoveTH-Music.com