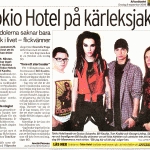 Tokio Hotel on the hunt for love
The heartthrobs only misses one thing in life – girlfriends.
They just turned 20. Yet they have lived a life others only dream about.
They have everything. Almost.
"I wish nothing more than to fall in love" lead vocalist Bill Kaulitz says.
There are hundreds of girls outside Sheraton. The reason is inside. The german rockband tokio Hotel is in Stockholm to meet the press about the upcoming new album Humanoid. The fans are watching the entrance. Waiting patiently.
Still singles
Every since the breakthrough 2005 the band hasn't only been celebrated for their music; the bandmembers are also obvious favourites among girls. And still singles. At least most of them.
"Georg has a girl, but the rest of us don't have any girlfriends" guitarist Tom Kaulitz, 20, says.
That he himself has been seen with Flipyside's leadsinger Chantell Paige is only met with a laughter.
"We are not dating, but she is a fun and nice girl."
It would be a big miracle
For the twin brother and frontman Bill Kaulitz, 20, the success with Tokio Hotel has prevented him from one thing – to find love.
"I think it is the most unrealistic thing that I can wish for right now. It is the biggest con/setback with being in the band. I don't walk outside on the streets, I don't go to the movies, and if I am at a club I am always sealed off (behind a fence). No matter where I am, I am always alone (isolated). So it would be a big miracle if I could fall in love with somebody, the lead seinger says.
At the same time it is exactly that he dreams about.
I wish nothing more than to fall in love and I hope that there exist a person who wants to share their life with me, Bill says.
Joacim Persson.
Translation Coolbreezegirl THA