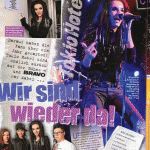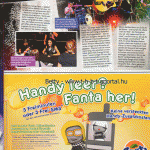 Translation by taki
BRAVO on the exclusive comeback concert of Tokio Hotel:
They're back! What the fans have been waiting for over a year! Tokio Hotel are finally back on stage and BRAVO was there... after 440 days of freedom at Germany for Tokio Hotel, the guys gave us a concert. But finally, fans can celebrate again. In Cologne, gave Bill Kaulitz (20), Tom Kaulitz (20), Georg Listing (22) and Gustav Schafer (20) an exclusive comeback concert in front of just 1000 lucky fans - including the winner of BRAVO raffle. "We are excited, finally playing again for the German fans," said Bill to Bravo on an interview. "But it's also more relaxed since we start to make an acoustic session - without a lot of show." But it had the TH sample: "We had little time to practice," said Tom. "We met every evening to prepare on the songs. It's been a long time since we've last played. "Bill also forgot his own lyrics: We worked for a year on completely new music that makes us forget all the old material." To feel good on the show, TH also had long list: "Our list is always super long. We always write of 500 energy drinks" said Tom, laughing.
Otherwise, they need: plenty of fruit, tons of waffles and coffee maker. The storm started at 19.00 o'clock on stage with "Ubers Ende Der Welt". The fans were insane. "We missed you so much", Bill says to them. When they play the new single "Automatic" in the ballad version turned the audience insane completely! And though the song was heard only a few days ago, they can sing it already from start to finish. Awesome! Goodbye With "In Die Nacht" after six songs: "In early 2010, we come back," says Tom, "Then we'll finally go back on a great tour!"