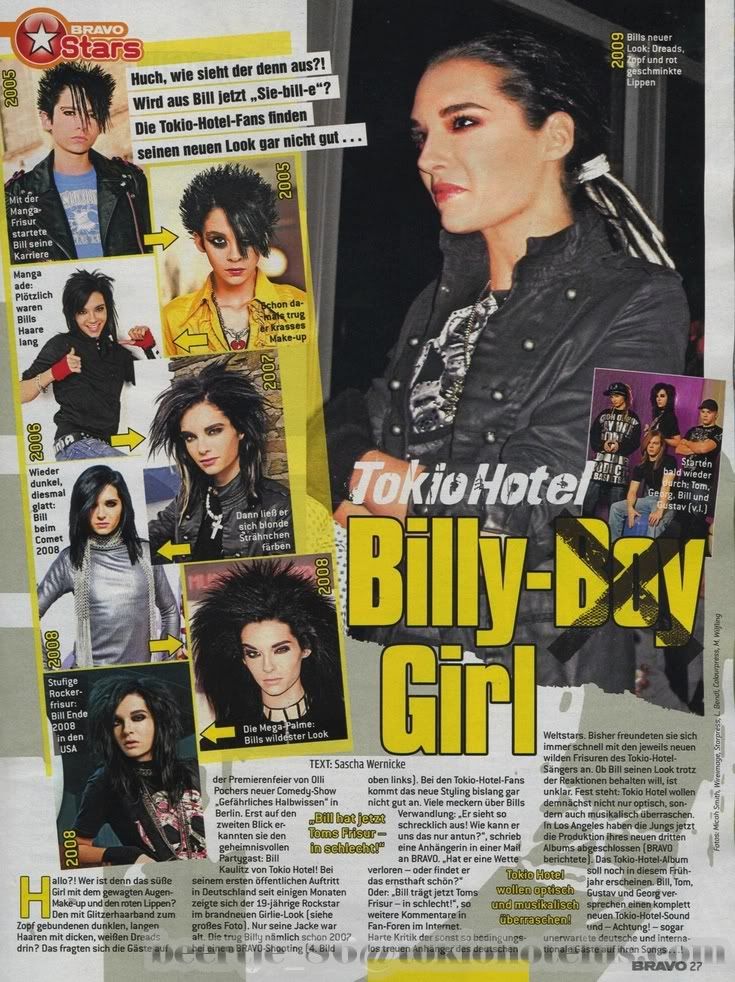 Oh, how does he look?! Has Bill became a girl?
The Tokio Hotel-fans doesn't like his new look...
Hey! Who is that cute girl with that bold eyemakeup and those red lips? With a glitter hair-ribbon around the dark, long hair with thick white dreads in? That was what the guest wondered on the premier of Olli Pochers new comedishow "Gefährliches Halbwissen" in Berlin. Not until the second sight they recognize the mysterious guest: Bill Kaulitz from Tokio Hotel! On his first official performance in Germany in several months the 19-year-old rockstar showed himself with his new girllook. Only the jacket was old. Bill actually had it on a Bravo-photoshoot back in 2007.
The Tokio Hotel-fans doesn't like the new style. Many complains about Bills change: "He look so terrible! How could he do this to us?" a fan writes in a mail to Bravo. "Has he lost a bet or does he really think its pretty?" Or: "Bill now days got Toms hairstyle - but it doesn't fit him", are only some comments on the fanforums. Hard criticism from the otherwise unconditionally loyal fans to the German worldstars. Earlier have they always been happy about the new wild hairstyles on the Tokio Hotel-singer.
If Bill will keep his new look despite the reactions is not clear yet. One thing is sure though: Tokio Hotel will not only surprise us visually, but also musical. In Los Angeles has the guys just finish the production of their new third album. Tokio Hotel's album will be released during the spring. Bill, Tom, Gustav and Georg promise a whole new Tokio Hotel-sound and - warning! - that both unexpected German and international guest will take part on their new CD!
Traduction par EEELIINA @ TokiohotelUS