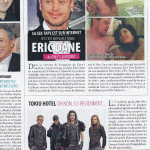 Originally posted by Schnee/tha:
Let me try some rusty translating.
"Oh no, they're back"
On October 5th, after a year's absence, the German band returns with a new album Humanoid. There will be two versions from which to choose, English and German, and the new single Automatisch has just hit the radio.
The big question is whether there are enough people interested to give this any chance of success.
To put the odds in their favor, Bill, Tom, Gustav and Georg have changed the way they look. Not sure that will be enough...