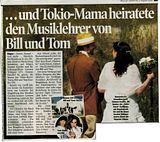 …and Tokio-Mom married Bill and Tom`s music-teacher
Rügen – sun, beach – and more….namely: a bridal pair in the dunes.
Yesterday afternoon Simone Kaulitz and her partner Gordon Trümper (37) married at Rügen.
Simone Kaulitz? Yes, exactly, the mother of the Tokio-Hotel-twins Bill and Tom Kaulitz (19).
Already 12 years ago the artist from Loitsche got to know the musician Gordon from Magdeburg.
Yesterday afternoon they became man and wife in a white tent at the Göhlener north-beach.
The guitarist of the band "Fatun" wore a brown jacket, a beige pair of trousers and a matching hat.
The artist presented herself in a long white wedding dress, covered her shoulders with a stole in addition.
In the evening the wedding party celebrated in the "Bernsteinpalais" opposite the hotel "Hanseatic", including a wedding serenade by Bill and Tom.
The new stepfather was the music teacher of the twins in the past by the way. At his "RockScool" Tom learned playing guitar. So developed a very close relationship.
In an interview Trümper said:"I tried to be their big brother."
Simone Kaulitz`s first marriage was divorced, when Bill and Tom were seven years old. Jörg Kaulitz lives today as a truck-driver in Hannover.