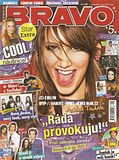 All fans of Tokio Hotel have something to look forward to! New CD, new look, new style! Bravo will show you boys in absolutely new light!
Already two years since Tokio Hotel released their last album "Zimmer 483" and raised really big disturbance! Since that time all fans waited for their comeback! Now is the time! In November their new album will be released and Tokio-boys will introduce themselves like you have never seen them before!
And also new CD must have super cool cover! That's why boys met in special secret place! Even photoshooting took them for two days and they had to posed since the night so Bill and company were absolutely free and cool and before objective made lots of fun: "There is really big presure for boys because of new album! Even that they didn't show stress and really enjoyed photoshooting," said producent David Jost. "Because of Gustav and Georg we had lots of overtimes and had to spent lots of time with make-up," joking Tom. Only Bill took care of his styling and he also designed clothes and change his old hair for cool-modern dreadlocks! Added together, underlined - their new look has no mistake! If this is the same with new album we will see...
Remember at Tokio-boys hit from 2007 Spring nicht...
Translation Evelyn@THUS