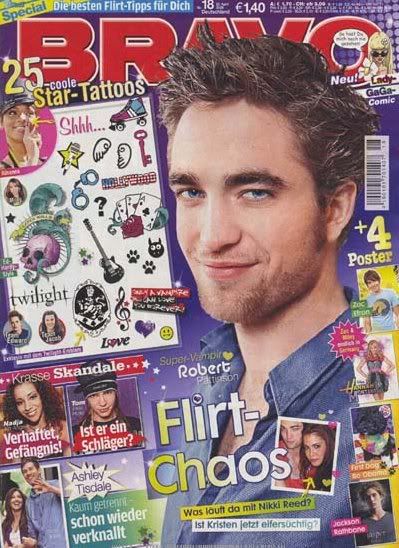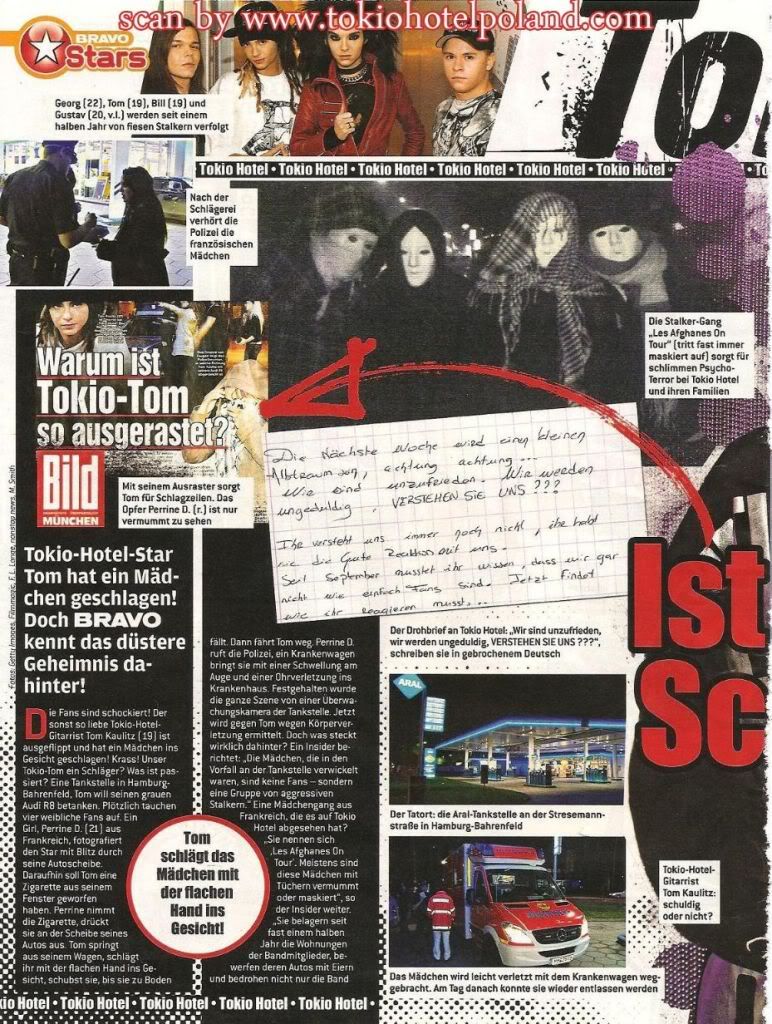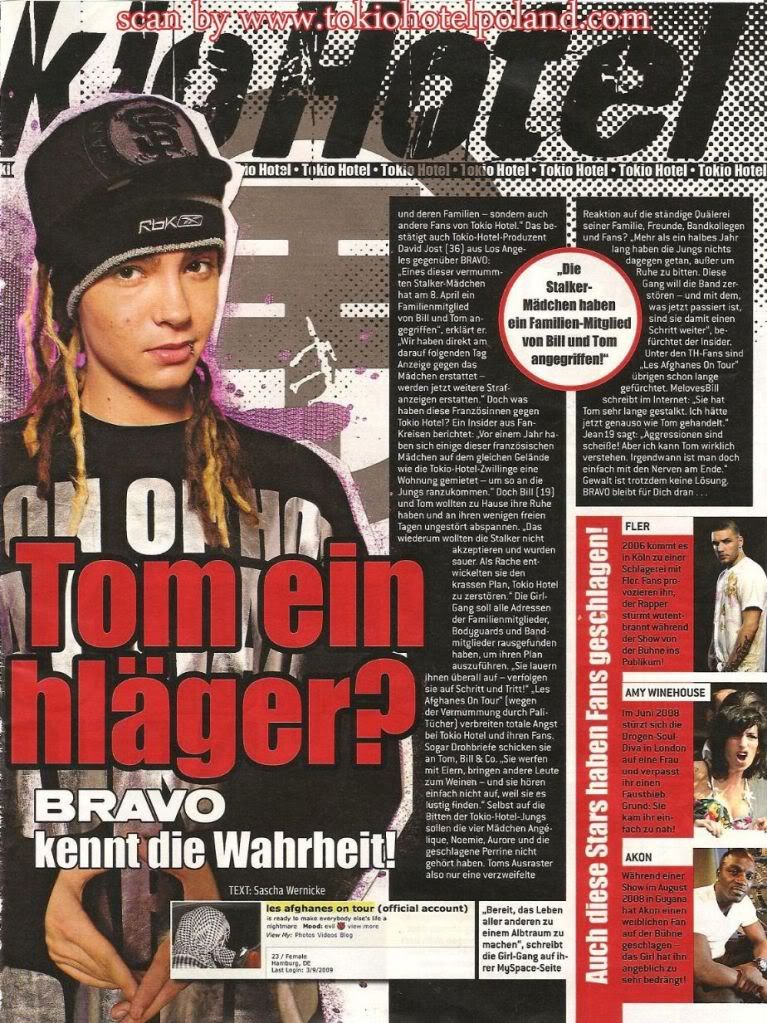 Translation by kaa89
Is Tom a troublemaker? BRAVO know the truth!
Tokio Hotel-star Tom hit a girl in the face!
But BRAVO know the dark secret behind the story!
The fans are shocked! The otherwise so loved Tokio Hotel-guitarist Tom Kaulitz [19] have been losing it, and hit a girl in the face! Seriously! Our Tokio Tom a troublemaker?
What happened? At a gas station in Hambuer-Bahrenfeld, Tom fill up his gray Audi R8. Suddenly 4 female fans comes up. A girl, Perrin D. [21] from France photographed the star through the windscreen.
After that Tom should have thrown a cigarette out the window. Perriere, took it and pressed it against the window on his car. Tom jumps out of the car, beats her with an open hand in the face, pushed her so that she falls to the ground
. after that Tom disappears D. Perrin call the police, an ambulance take her to the hospital. She has a swelling under the eye and ear damage. The whole scene was filmed by a surveillance camera of the petrol station.
Now there is a complaint against Tom for easier injury. But what was behind it? An insider says: "The girl in the incident was not a fan but a member of a group of aggressive stalkers: a bunch of girls from France has been stalking Tokio Hotel. They call themselves" Afghans are on tour. "" Often, they are covered with scarves or masked "continues the insider "They have stood outside the band members' house in half a year, throwing eggs at their cars and threaten not only the band and their families - but also other Tokio Hotel fans.
This was also confirmed by Tokio Hotel-producer David Jost [36] from LA to Bravo: "One of these masked stalker attacked a family member of Bill and Tom April 8," he says. "We did direct a notification to the police the following day - and will now make additional notifications. "But what have these Frenchwoman to Tokio Hotel? An insider reported:" A year ago, rented one of those French girls an apartment in the same area as Tokio Hotel-twins ". But Bill [19] and Tom wanted to be in peace at their homes for a few days off and relax undisturbed. "This could the Stalker not accept, they became acidic. For revenge they developed a plan to destroy for Tokio Hotel!" Girl Gang found out the addresses of family members, bodyguards, and the band members, and putting their plan in to action. "They are cheating all over them, follow each step!" Afghans on tour "spreading fear among Tokio Hotel and their fans. They send threatening letters to Tom, Bill and co "" They throw eggs, other people cry - and they simply do not listen because they think it's funny.
" Not even on the appealn from the Tokio Hotel guy's, did the 4 girls Angelique, Noemi, Aurore and Perriere listen to . Is Tom's outbreak only a desperate reaction to this constant torment against his family, friends, band colleagues and fans ? "For over half a year has the boys done nothing except to ask for peace and quiet. This gang will destroy the band - and maybe even go further "fear the insider. Among TH-fans is "Afghans on tour" feared long ago. MelovesBill write on the Internet: "You have stalked Tom for a long time, and I had done the same!" Jean19 says: "Aggression is the shit! But I can certainly understand Tom. Sometimes it becomes too much." "Violence is, after all, no solution." BRAVO will follow this ...