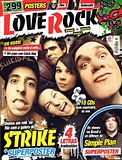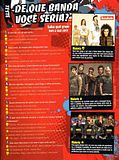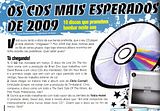 Translation by Aniinhas
Most wanted albuns of 2009
10 albuns that promisse to rock this year
You listened so much for the album of your facvorite band that your CD player is saying "It's enoouugh!"? Well, 2009 brings good news to the fans of most several groups: really soon the diverse brand-new albuns will be in the stores. Do you want to know more?
It's arriving!
3. Others that are working their asses off are the German Tokio Hotel. Their producer, David Jost, said to Bravo that "Bill is writing so intensely as he never did for this album". There are people saying that the album will be released in the end of March. Could it be?
Quiz: what band would you be?
1. The sound of your band would be...
a)... pure rock'n'roll, more pushed to the metal
b)... with some footprints of pop rock
c)... without any fear of inovations
2. For you, the clothes of the members are:
a) essential! When you look, you can recognize the musician really quickly
b) important, but matching the message of the sound that you want to transmit
c) nothing to excentric, they have to be all black.
3) On stage, how should be your performances?
a) the member have to give everything for the music from their body and soul
b) It counts with jumps, spins, falling on the ground, breaking the guitar, do a mosh on the crowd...
4) In your opinion, tattoos, piercings and make-uped eyes...
a) are everything! every rockstar should have
b) they can be dismissed. But the make-up on the eyes is essential!
c) isn't connected to anything. A rocker don't necessary need all that stuff
5) Which stage elements you like on the shows?
a) lasers, smockness, silver rain
b) a little dark projections and fire blazes
c) Big screens with beautoful images and impacted
6) What do you think about associate social and ambiental causes to the music?
a) "Great. I would participate on a event or sell some instrument to contribute with some foundation"
b) extremely important! It's a eficient way to warning the people about what happens in the world
c) Ah, cool... But I don't know if I would engage myself so much.
7) Which sounds have more in commom with what you like?
a) Metallica, Guns N' Roses, AC/DC, Black Sabbath, Iron Maiden
b) U2, Radiohead, R.E.M, Blur
c) Fall Out Boy, Oasis, Green Day, Foo Fighters, Aerosmith
Results:
More from a)
You have a lot in commom with Tokio Hotel! Your unique look, with a unmistakable style and with a sound with some pop would be liked for a legion of fans, deseperatly to see you close.
More from b)
For true rockers like you, Avenged Sevenfold is the right chose. If you would be part of a band, you would give everything from you to the music. Your performance from your inside woudl rock the people, no doubt!
More fom c)
For the ones who want to creat a sound with no fear to try, Coldplay is perfect. The guys make a show that dishevel everyone and they care a lot about the problems of our planet.