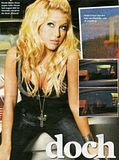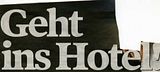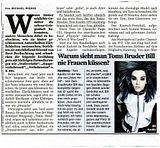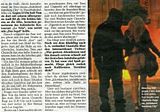 In scan 1 you can read:
Here Tom Kaulitz (19) from Tokio Hotel and the American singer Chantelle (21) are cuddling in his Audi R8 at a parking lot in Hamburg and confirm the love-rumours.
Go in a hotel!
Whenever simple minds get the rare oportunity to watch other people how they fondle behind close car windows, they report afterwards with a smirk about their observation and like to embellish the following story with sticky phrases like "rush-hour", "peak-hour traffic", "traffic jam", etc.
If we look (and now also you) at the lightly blurred picture at the top of this site, we see two humans, who fondle behind a close carwindow tenderly, but we say of course nothing sticky, just something like "Hoppala".
Those among us (and among you), who are fans of the Magdeburger boygroup "Tokio Hotel" as well, are now additionally at the latest deeply impressed and shout, at least half-loudly, a "Donnerwetter" (= Wow! Damn!") or "full-krass" or "geilo" (= "Awesome!"), depending on the age and socialization.
It is the first picture, that shows the Tokio-Hotelier Tom Kaulitz (19) clearly kissing with a woman.
This woman is Chantelle Paige (21), singer of the American band "Flypside" (current song: "When it was good").
Instead of flying back to Los Angeles after a performance in Stockholm, the former model comes to Hamburg for visiting Tom. For only 18 hours, spending 7 hours with guitarist Tom.
The kissing-protocoll, recorded to the best of one`s knowledge and belief and with the necessary caution:
Chantelle landed with flight SAS 2645 of the Scandinavian Airlines at Monday evening 7:15 pm at the airport Hamburg.
From there she drove to the city, checked in cost-consciously at the 3 stars "Suitehotel Hamburg City" near the central station.
Tom picked up her there with his silver-grey Audi R8 at 10 pm.
Both drove to the Elbe, visited together the Italian restaurant "La Vela", what means "The sail".
Then the couple "sailed" more, allowed themselves some drinks at the bar of the hotel "East" and returned to the hotel of the singer. Instead of disappearing in the hotelroom, Tom and Chantelle kissed each other nearly half an hour in his car until the windows got steamed up mercifully.
At 3 o`clock in the morning they finally "dropped anchor" at the hotel. Chantelle could really badly coordinate her high heels with the cobblestones.Tom proves also in this situation, that he`s a real Gentleboy, lays his arms around her and helps the stumbling back on the right way.
Two hours later Tom leaves the hotel, sits in his Audi, drives away.
Chantelle flys at 1:30 pm to London, from there to her home town Los Angeles.
There was already at June 3rd the first picture of Tom and Chantelle together, but that harmless/innocent, that the phrase "We are just friends..." could be believed.
Two weeks ago Chantelle said about her new gentleman: "Actually he is my dreamtype. But my friends warned me. I was told, he would pick up every weekend another one."
Now it sounds different: Before her flight back to LA Chantelle spread on the internet service Twitter: "Was dining yesterday evening and drove afterwards extremely fast about the German Autobahn (highway). It was sooo much fun. Fly soon back to California. Miss you!".
Back at home the next news about Tom were tweeted: " I wish, I had one more great night in Germany."
That`s for sure possible. But the next time you possibly better go in the hotel. Kissing at the frontseat feels for sure really special. But at the floor afterwards there comes even the roomwaiter....
--------------------------------------------------------------------------------
Why do you never see Tom`s brother Bill kissing women?
Tom Kaulitz is the macho of "Tokio Hotel" – his twinbrother Bill is the complete opposite. He searches the big love, is still unkissed.
"That makes me so sad. I`m 19 now, and I miss that really completely. I really would like to have a girlfriend and share my life with her, who understands everything, what I`m doing", he tells in an interview.
In internet-forums there is again and again the rumour, that Bill is gay.
Reason is often his androgyn look. What fits: Bill was just voted at place 30 of the most un-erotic women worldwide by readers of a men-magazine.
--------------------------------------------------------------------------------