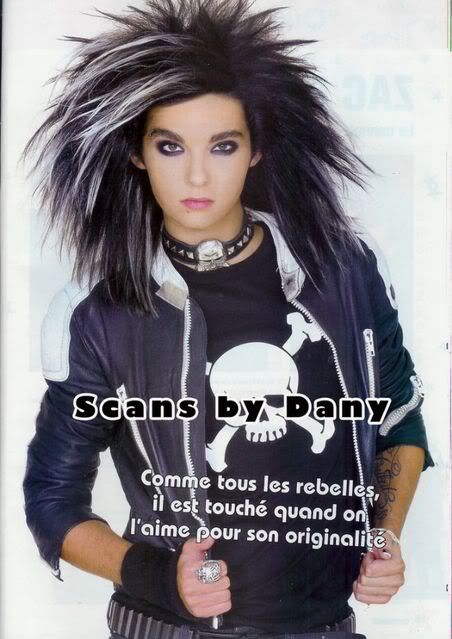 Translation
Bill Kaulitz – How to aproach him?
So you're strolling down on a deserted road and you catch sight of Bill Kaulitz standing on the pavement in front of you. How will you start a conversation? Better worth to assure and distinguish yourself from the other fans who want to arouse his interest.
(Article: )
"Aaaah, Bill I loooove you!"
If you start like that, you are all wrong. The singer of Tokio Hotel has already said many times: The hysteria of certain fans doesn't make him feel so comfortable. He doesn't know how to react when a girl approaches him by screaming or crying. Even if you are super-excited to see him, he will channel (?) your emotions. He is constantly followed by passion-filled groupies. To capture his attention, you should act differently and talk to him as if you were talking to anyone. A simple "Hi, Bill" is a good deal. OK, you know him well and you enormously appreciate what he does, but it's important to show him that for you, what counts is to be able to discuss things equally. You also win his consideration of entering the game.
"I liked Tokio Hotel since the concert of Trabendo, in 2006..."
By this, you mark a point. Right away, Bill understands that you took part in the admirers by the first hour. The concert of Trabendo stayed graved into his memory. It will always be a strong moment because it was the first concert date in France. The public reserved an excellent welcome on that day. It was truly the debut of their career here [in France]. This will forcedly make him warm at the heart that you remember this moment too. But your faithfulness may not make him indifferent, as much as he has lots of respect for his fans.
"I love your look: there is no one like you"
Nicely played! Even if he has already heard this, it's the type of compliment that will make him always pleased. Back when he was still young, his different-look wasn't always well perceived. "At school, back then, people often made reflections to my style. One of my girlfriends dumped me because I started wearing makeup," he says. This didn't prevent him from cultivating his differences by being who he is. And, like all rebels, he is touched that people like his originality.
"Clearly, you are 100 times better than your brother!"
Here, you're adventuring on slippery soil… By claiming that Bill is much better than his brother, you are also saying that Tom isn't something special. Be careful… It is useless to make enthusiasm by looking to install a rivalry in between them. The twins are like two fingers on the hand. "In a general manner, we are never in competition. We have grown up together and we always support each other," confirms Bill. You have a weakness for the most rock of the two; it's your choice, but by diminishing his biggest ally, you must not over-exaggerate it. Bring yourself to tell him that you like him, that will be largely enough.
"I buy all the magazines/newspapers to know what you do daily."
And bing: you miss! If you believe that he will be pleased by you saying this, you are completely beside the reality. The four members of the group have had enough pestering by the paparazzi constantly. Bill has recently declared "We would love to disappear for one moment from the media, but unfortunately it's impossible. There is always one to photograph us or to meddle with our private lives. It's very tiring. We too have a right to our own privacy." By your interest to their music, we asked some news for their new album…
(Orange box at the bottom: )
Who is Bill Kaulitz?
First name: Bill
Last name: Kaulitz
Date of birth: 1st September, 1989
Place of birth: Liepzig (Germany)
Astrological sign: Virgo
He likes: The enthusiasm of his fans, makeup, fast-foods and sleeping in.
He hates: School and the authority of general manner.
Particular signs: He has two piercings and several tattoos.