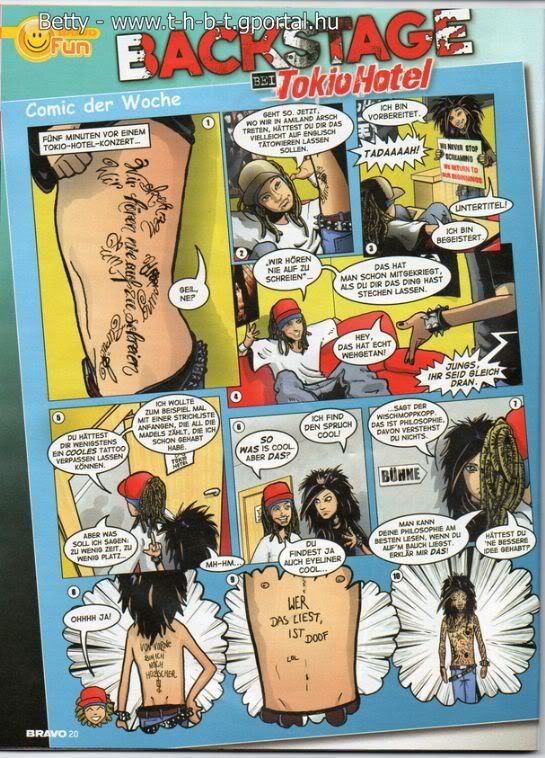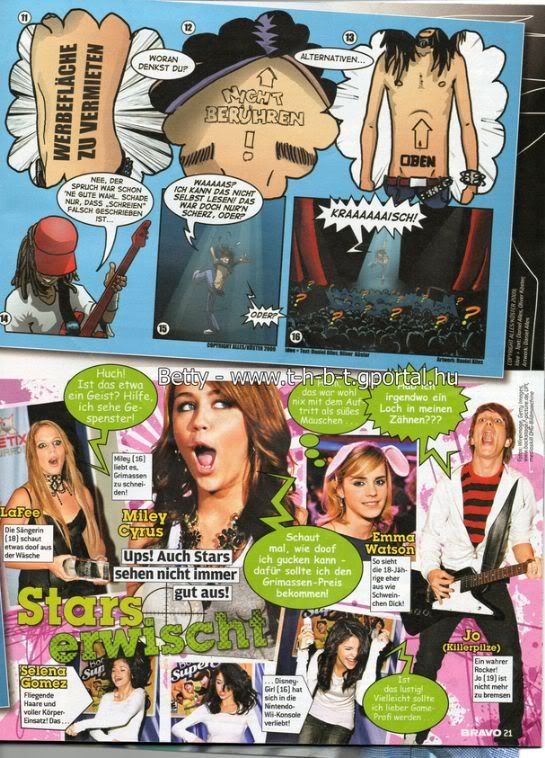 Translation by tom reden
1. Five minutes before a Tokio Hotel concert...
Bill:"cool, not?"
2. Tom:"It's ok, now, since we are playing our asses of in Amiland, you should've maybe got it tatoed in english."
3.Bill:"I'm prepared" "TADAAH!" "Subtitles"
Tom:"I'm inspired"
4.Tom:"We never stop screaming... The people got that when you got the thing"
Bill:"Hey! That really hurt!"
Staff:"Boys, you're on immediatly."
5.Tom:"You could have at least take a cool tattoo. I would for example have a list, that counts all the girls I dated with. But wath should I say: too less time and to less space."
Bill:"Mh-hm"
6.Tom:"Something like that is cool. But that
Bill:"I find the saying cool."
Tom:"You think eyeliner is cool to."
7.Bill:"...says the wischmopphead. That is philosophy, from that you don't understand anything."
Tom:"People can read your philosophy the best when you lay on your belly, explain me that."
Bill:"Did you had a better idea?"
8.Tom:"Oh yes!"
from the front I look even hotter
9.who reads this is stupid lol
11.avoid advertising
12.Bill:"What are you thinking about?"
don't touch!
13.Tom:"Alternatives"
above
14.Tom:"No, the saying was a good choice...Just to bad that they misspelled "Schreien"
15.Bill:"Whaaat? I can't read it myself! That was just a joke, right?" "RIGHT?"
16.Bill:"Kraaaaisch"