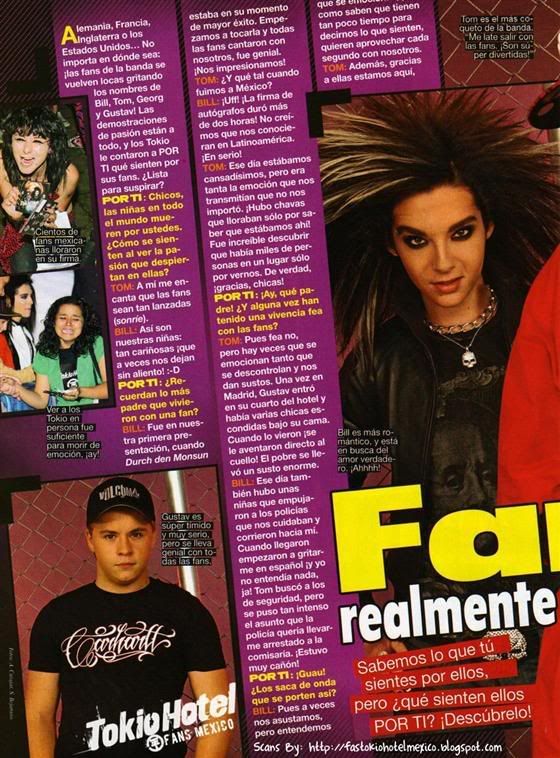 TRANSLATION BY NEELYO:
Tokio Hotel: We know how you feel about them but, how do they feel about you?
Germany, France, the UK, the US...The place doesn't really matter: the fans
of the band go crazy screaming the names of Bill, Tom, Georg and Gustav!
The demonstrations of passion are as present as can be and Tokio Hotel told
Por Ti what they feel about their fans. Ready to sigh?
PT: Guys, girls all over the world are madly in love with you. What do
you feel when you see the passion with which they love you?
Tom: I love it when fans are like that. (smiles)
Bill: That's what our girls are like, so loving that sometimes they leave
us breathless =D
PT: Do you remember the coolest thing you ever lived with a fan?
Bill: It was during our very first presentation, when DDM was having
its most successful moment. We started playing and all the fans were singing
along, it was really cool. We were impressed!
Tom: And what about our first time in Mexico?
Bill: Wow, the signing lasted a little over two hours. We didn't think
people would know us in Latin America, really!
Tom: That day we were really tired, but the vibe that we were
getting was so awesome, that we didn't care. There were girls crying just
because they knew we were there! It was awesome to see that there were
thousands of girls there just to see us. Really, thank you girls!
PT: Awesome! Have you ever had a bad experience with the fans?
Tom: Not really a bad experience, but there are times when they get
so excited that they lose control and scare us. This one time in Madrid,
Gustav went into his hotel room and there were some girls hiding under the
bed. When they saw him, they jumped him! He was really scared.
Bill: That same day some girls pushed the cops that were with us and
ran straight to me. When they got to me, they started screaming in Spanish
and I understood nothing, ha! Tom started looking for our security team but
thing got so out of control that the cops wanted to take me to the police
station! It was pretty crazy!
PT: Wow! Does it freak you out that the fans act like that?
Bill: Sometimes it does, but we understand so we will always be more
than glad to stop for a picture or to sign a CD.
PT: You guys are so nice! But isn't it a bit tiring to do this for your fans?
Tom: Not at all, I think we all have good days and bad days. We're
only human and there are days when we are in a bad mood and don't feel like
signing anything.
Bill: But we would never be rude to one of our girls or to anyone for
that matter. We love them very much and we love to have them with us,
we'd never do anything that made them feel offended.
PT: Have your fans ever done something really dangerous for you?
Tom: Yeah! One time a girl tried to break into out room through the
window and she fell! We were really scared that day because we thought
she was hurt.
Bill: Something funny happened to me in an airport. I was just hanging out,
pretty relaxed, and then a bunch of girls that recognized me started
screaming 'indecent proposals'. Everyone could hear them, I was really embarrassed!
PT: So you don't hit on your fans?
Bill: Just if it's for a serious relationship. I want a girlfriend but for that
to happen, I really have to know the girl. It doesn't really matter if she's a
fan or not.
Tom: I must confess that I've dated a couple of fans, nothing serious,
but it was fun.
Bill: I, on the other hand, are more romantic. I am waiting for true
love, a girl who understands me and who supports my career, but while I
wait for her, I'll focus on my music because that's my passion!
***
Some of the top moments: TH's visit! We'd been waiting for them for so long!
And it was all worth it, they are an amazing band and they love their fans!