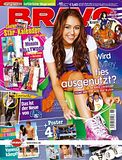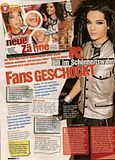 Translation:
The Tokio-Hotel-star in the beauty flush! Last week BRAVO bared: "Bill has new teeth!" But nobody thought about such reactions!
"I hate the new teeth!" - "I can't believe, that he corrected his bit!"
Or: "I'm totally shocked!", are just a few of the thousands of
reactions to the new smile of Tokio-Hotel-singer Bill (19). Secretly
let the rockstar correcting his distinctive chompers (overbite and
slightly crooked incisors) for estimated 32.000 euros into a perfect
Hollywood-smile (BRAVO reported).
Just silly, that most of the fans don't agree with his impeccable dental-parade.
Many want their old Bill back. But these times are probably over.
And who knows what else is coming? For many Bill-supporters interfences
the horror about the intervention with the fear for further more
"corrections". Are the teeth perhaps just the beginning? A fan says:
"Hopefully he isn't also running now to the beauty-doc beacuse of his
nose!"
Fan-quotes.
Anna (14) in the internet:
Bill is obviously still sweet. But I will miss his vampire-teeth. I
truly loved his old laughter. The new one is like from an advertisement
...
Rose in the internet:
Oh nooooo! Why is Bill doing this?! Probably because people in Hollywood are only successful with a perfect smile...
Azis, 17, in the internet:
I hate his new teeth! I will miss the old laughter - that was so cute!
Sofia, 14 via em-mail:
What the hell was wrong with his old teeth? I can't believe it! Why doesn't he like himself anymore?
Mayday2 in the internet:
Bill will always be sweet. No matter what he do. If he feels better, then I think it's okay. Everyone like he wants it..
Tegele via e-mail:
Bill was perfect! I don't hope, that he due to the world-success
lift-off and don't canker of the superficiality of the stars.
Otherwise, he wouldn't longer be the Bill, we fans love.
Mileyandjobrovip in the internet:
I still can't believe that he corrected his teeth. I'm sooo angry. I cried for hours when I saw the photos...
Franzi (16) via e-mail:
I'm totally shocked! I think that's totally stupid. Bill should
stay normal, like in the past! He really changed. He just comes to me
differently.
Credit to TH-UNLIMITED.ORG.