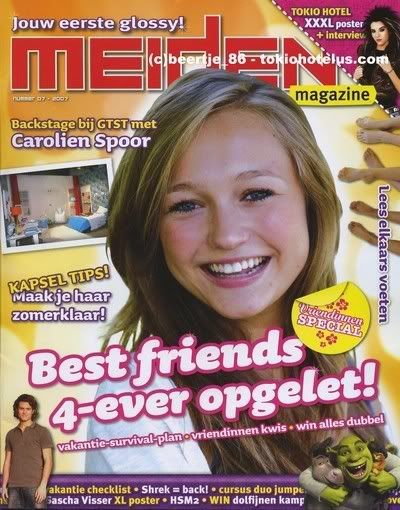 Meiden magazine: Girls, come quickly to our concert!
You know the German band Tokio hotel from the hit Monsoon. Are you also so happy with there first english album? Those German albums where sometimes pretty difficult. Meiden magazine talked with the four hunks!
1.Was it diffult to sing in English?
Bill: It really was a challange. Luckily i know what i am singing because the album Scream is a translation from our German albums Schrei and Zimmer 483
2.Which song on the album Scream do you like the most?
All: Don't Jump, just rocking!
3.You have been producing hits for some time now. Do you still go to school?
Georg and Gustav: No, we already graduated and that is enough for the moment.
Bill and Tom: We will jump a hole int he air once we are finally finished with school. Too bad we still have one year to go. Because we are away so much we get school through the internet.
4.Who do you miss most when you are on tour?
All: Our pets. We all have a cat or a dog.
5.What has to come along on tour?
All: The catering lady. Not because she's hot or something but it is important to us to eat healthy.
6.Who is a hot lady then?
Bill: Angelina Jolie
Tom: Olsen twins
Gustav: Carmen Electra is the hottest
Georg: Then i'll just take them all!
7.And finally. Do you have a girlfriend?
Tom: Haha, no we are all single! So girls, come quickly to our concert!
In Meiden magazine you can also find the first part of a mega-poster with Bill.
It is the first part and the second part is in the next Meiden magazine.